Masterpack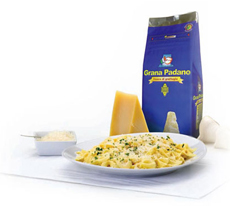 How Zip-Pak INNO-LOK Barrier Zipper helped MasterPack offer traditional cheese flavor in a modern resealable zipper package.
Flexible packaging challenge:
Packaging solutions provider, MasterPack, wanted to retain the time-honored tradition and flavor of freshly grated Grana Padano cheese pre-grated in a quick and easy resealable package… one that would satisfy even the most discerning Italian palette.
Zip-Pak resealable flexible packaging slider solution:
INNO-LOK Barrier Zipper was a proven choice for meeting stringent moisture and oxygen barrier requirements required to preserve flavor and freshness. Plus, it was easily implemented onto MasterPack's existing vertical form/fill/seal (V/F/F/S) machines without compromising production speed. The result… MasterPack was able to create a resealable package that prevents product spoilage and retains flavor much longer than any other packaging option.
Thanks to the INNO-LOK Barrier Zipper, the new resealable package now offers more opportunity to reinforce brand quality and integrity each time consumers use the product.
Contact us to learn how you can strengthen your brand with flexible packaging that's more convenient for consumers and good for sales.
"This new packaging option appeals to the modern consumer's taste for products that are conveniently dispensed and stored. It also provides the barrier protection that is essential for keeping cheese fresher, longer. This gives cheese brands a definitive edge over the competition."
——Maria Ippolito, Export Manager, MasterPack