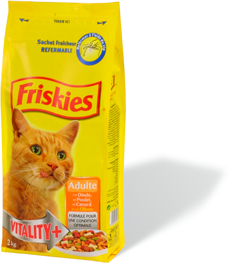 How Zip-Pak resealable zipper technology helped Nestlé Purina find a cost-effective competitive advantage.
Flexible packaging challenge:
Nestlé Purina PetCare, France, a leader in the packaged pet foods, had a three-fold packaging challenge for its Friskies brand bulk cat food package:
Differentiate its products more cost-effectively.
Lock in product freshness and lock out permeating food scents.
Improve merchandising opportunities.
Zip-Pak resealable flexible packaging slider solution:
Adding Zip-Pak zipper technology to specialty film helped Nestle Purina achieve all three packaging objectives. Retailers love the merchandising opportunities that the new package brings and consumers are delighted that food stays fresh and its scent no longer wafts through the house.
Thanks to Zip-Pak's resealable zipper closure, Nestle Purina has a resealable package that's unique to bulk pet food and convenient for consumers to use and retailers to merchandise.
"By teaming up with Nestle Purina's converter, Nordenia International, we were able to quickly develop a resealable flexible packaging solution. Best of all, a simple retrofit to Nordenia's existing packaging equipment made the transition to zipper technology smooth and inexpensive. "

—Robert Hogan, Director of International Sales and Marketing, Zip-Pak
Contact us to learn how you can strengthen your brand with flexible packaging that's more convenient for consumers and good for sales.