Plumrose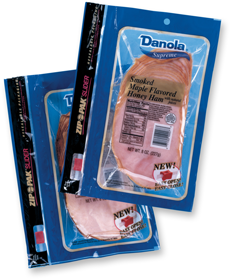 Flexible packaging challenge:
Plumrose, one of the largest U.S. producers of premium sliced meats, wanted to differentiate its new premium line with a package that reflects the discerning taste of its choosiest customers.
Zip-Pak resealable packaging solution:
Plumrose wanted their new premium product line to deliver a superior customer experience—from the way the product tastes to ease of use. That's why Plumrose selected our convenient ZIP-PAK® Slider™ for its Danola Supreme Deli Classic meats line. Thanks to our resealable zipper closure, Plumrose's premium customers now have a flexible package that's easier to use.
"This new line of deli meats is geared toward our choosiest customers. So our new Danola Supreme Deli Classic meats will also have a unique package – it will be the first meat in a thermoform package to feature the ZIP-PAK® SLIDER™."
—Don Meyer, Senior Vice President of Sales and Marketing, Plumrose USA
Contact us to see how you can gain a competitive advantage with resealable zipper technology.